Posted: August 11, 2016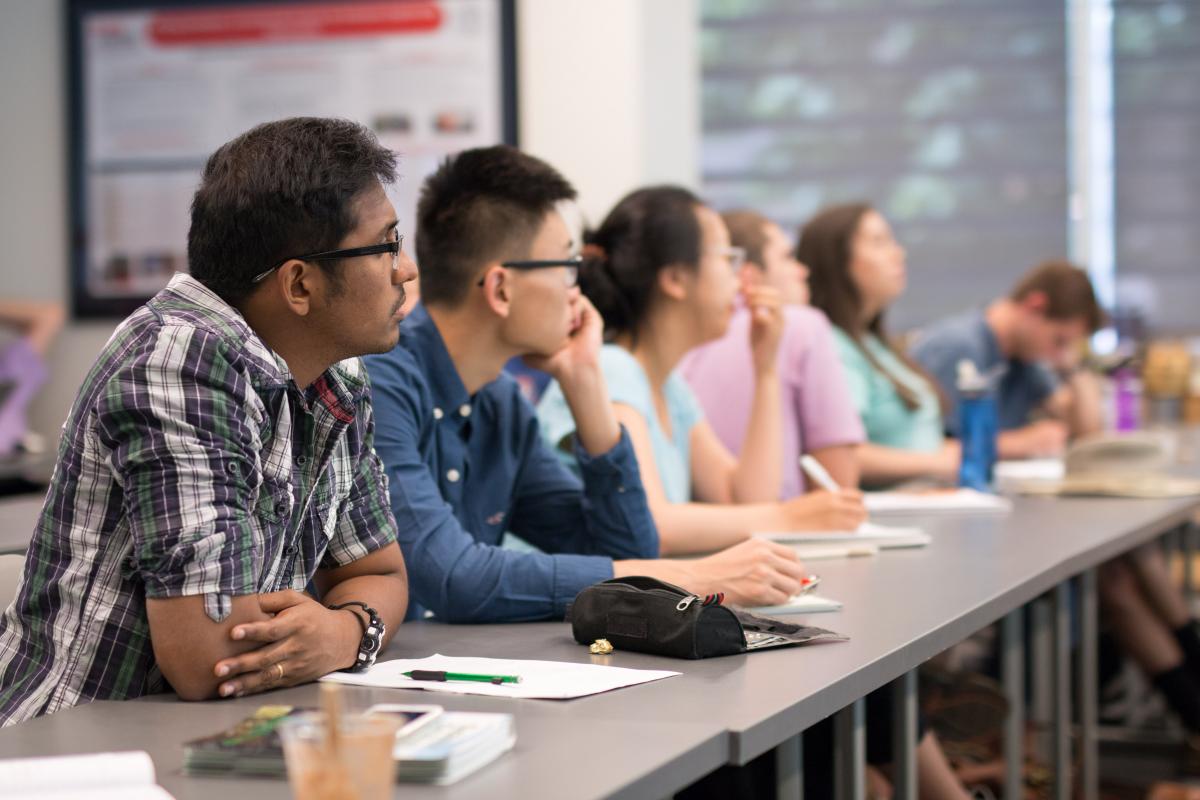 In an effort to combat the effects of the current industry downturn on student work experience, the Department of Petroleum Engineering is taking on a new initiative this summer, offering externships to rising juniors and seniors. The externships run over the course of five weeks, and three different sessions are being taught with topics in drilling and data analytics, hydraulic fracture design, and enhanced oil recovery.
F.H. "Mick" Merelli/Cimarex Energy Distinguished Department Head Chair Erdal Ozkan initiated the program, saying that "the best way to fight the negative effects of the industry downturn is to better prepare our students".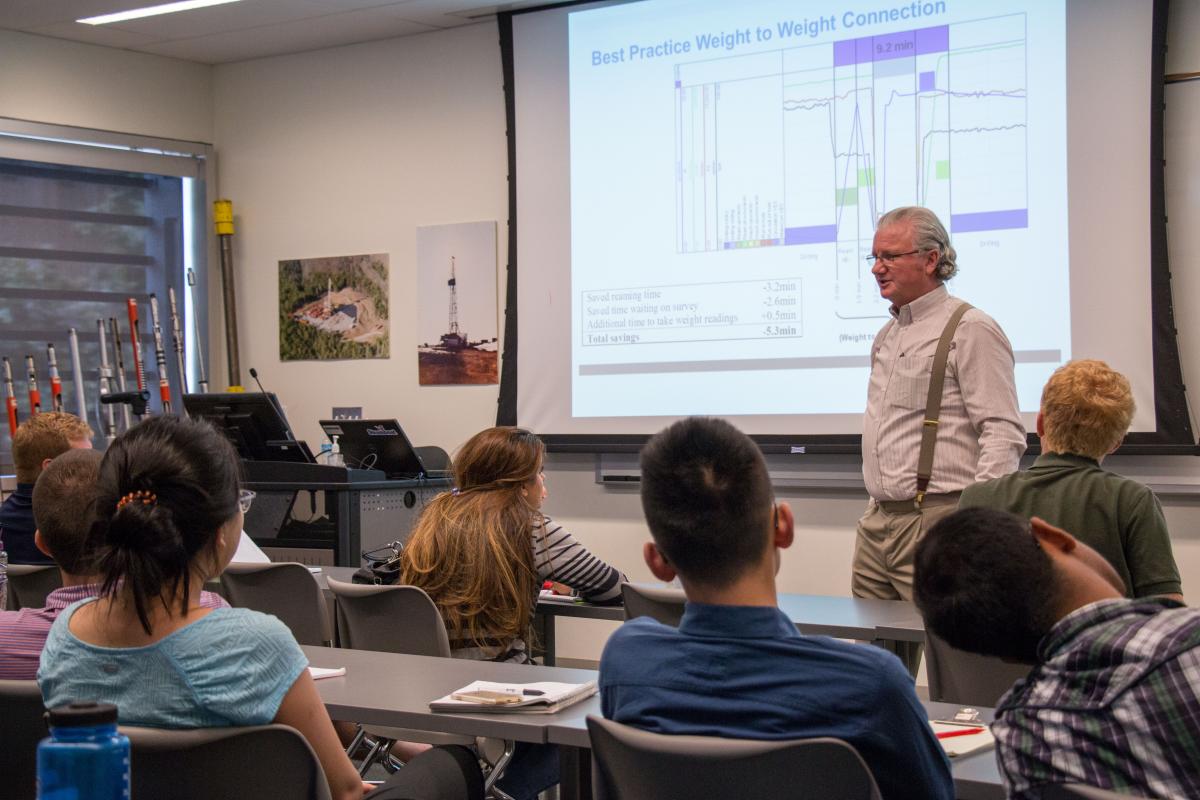 Students in "Drilling and Production Data Analytics" externship learn from industry rep John de Wardt.
"The externships are a program for our students who might not have gotten an internship or other work this summer," said Jennifer Miskimins, associate professor and faculty lead for the fracturing externship. "What we're trying to do is to provide them with an in-house internship where they get an opportunity to work with different projects and software that they may not get to use in their regular classes." 
Rising senior Ryan Givan said that although learning two new computer programs has been one of the greatest challenges, he knows that the experience will be valuable. "Not only will doing the externship help me get a job, but now I have experience using the actual simulation software that they use in the industry."
Tom Bratton, former adjunct professor who is now retired from the industry and pursuing a graduate degree in geophysics from Mines, is teaching students some of these new technologies. He sees externships as an innovative way to do what oil companies today can't do because of budgetary limitations.
"For the students to get a project to work on over the summer and be able to learn from that experience is fantastic," Bratton said. "The industry is cyclical, it always has been -- it will come back up, and they will be hiring."
| | |
| --- | --- |
| | |
| Tom Bratton teaches students in the "Hydraulic Fracture Design & Refracturing Treatments" externship how to use industry-provided modeling software. | Post-doc and teaching assistant Tedesse Teklu runs a lab session for the fracturing externship. |
Students aren't the only ones benefiting from the externships, company sponsors are as well. Dean Ramona Graves of the College of Earth Resource Sciences and Engineering, explains that at a lower cost than hiring a single intern, the externships allow industry sponsors to form relationships with multiple potential employees. "Instead of investing in just one student, they get to look at 20 students," said Graves. "They observe the students solving real industry problems in a professional work-like setting."
Company sponsorship also means that students are working with industry-supplied datasets. 
"We all have different formations that we've been working with from different companies," explained Givan. "We're not all just doing the same thing— we're getting experience doing something that you would actually do as an engineer working for a company." At the end of the 5-week program, students will present their results to company sponsors.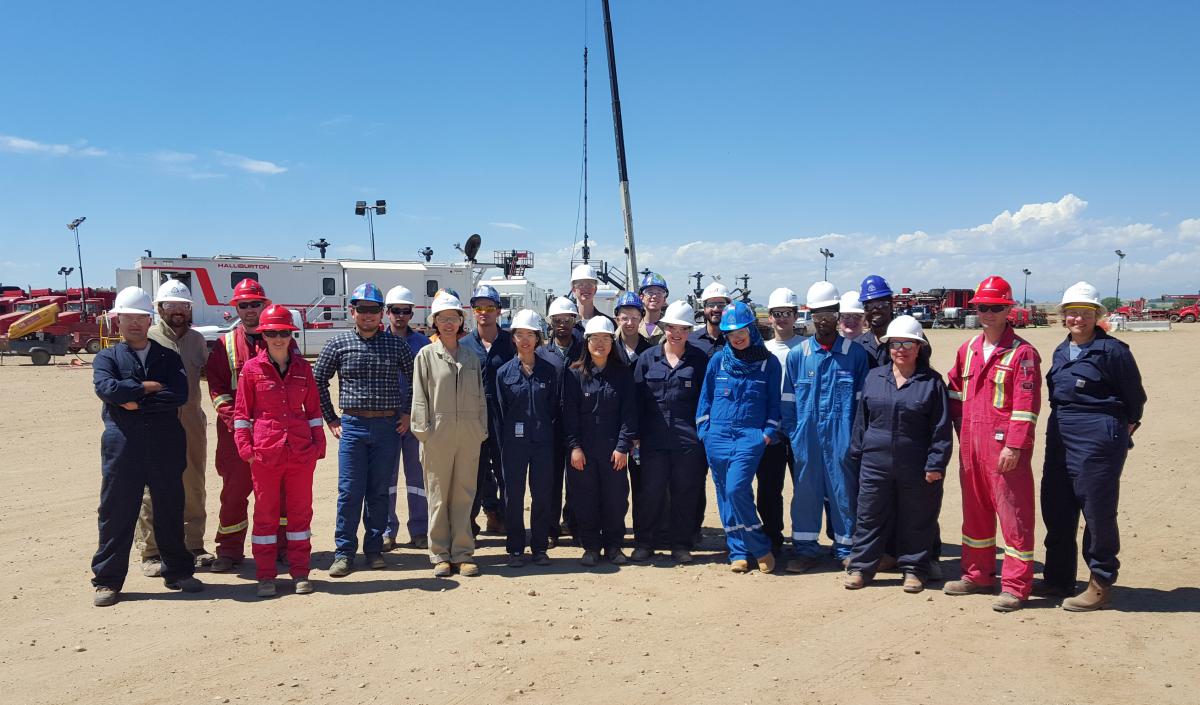 Students in the "Hydraulic Fracture Design and Refracturing Treatments" externship visited a Halliburton oil field.
"This is a new concept that we're trying out this summer— the feedback so far has been very positive," said Miskimins. Graves gave her praise, saying that the department "has done a fantastic job in this downturn of the market, with the uncertainty of the market, to take care of their students."
If the program is successful, the department will likely offer it in the future.
"We will not hide behind the low oil prices or limitations of the industry," Ozkan concluded. "We will make sure that if there is only one job out there, it will be a Mines graduate to take it."
The externships were made possible by generous sponsorship and industry data-sets from: Chevron, Whiting Petroleum Corporation, BHP Billiton, Devon Energy, Ward Petroleum, Great Western Oil and Gas Company, Elk Petroleum, Surtek, Inc, Oil E. Services,  University of Wisconsin-Madison, Agua Caliente Geothermal Inc., Ice Drilling Design and Operations, K.P. Kauffman Company, Inc., HRM Resources, Foundation Energy Management, Ultra Petroleum, Dewardt and Company, Stimlab, Barree & Associates, SAS, State of Colorado Oil and Gas Conservation Commission, U.S. Navy Geothermal Program Office, Sandia National Laboratories, Mr. Robert Howard (PE '56)
Contact:
Agata Bogucka, Communications Manager, College of Earth Resource Sciences & Engineering | 303-384-2657 |
abogucka@mines.edu
Kathleen Morton, Digital Media and Communications Manager, Colorado School of Mines | 303-273-3088 |
kmorton@mines.edu