Posted: July 14, 2017
Engineering researchers are putting an innovative two-story structure made of cross-laminated timber (CLT) panels through a series of seismic tests to gather scientific data that will enable design of mass timber buildings that can survive large earthquakes with little or no repair.
Colorado School of Mines Civil and Environmental Engineering Assistant Professor Shiling Pei is the lead researcher on the NSF-funded project, having conducted similar tests on a much smaller scale on Mines' campus prior to this massive effort using the world's largest outdoor shake-table in San Diego, California.
"Designing buildings that are safe even during large earthquakes is hugely important. We are doing that – and we are going further," Pei said. "We are working to minimize the amount of time buildings are out of service after large earthquakes. We are also focused on cutting the costs required to repair them."
The tests are being conducted at NHERI@UCSD, an experimental test site at UC San Diego funded through the NSF's Natural Hazard Engineering Research Infrastructure (NHERI) program. The tests will produce data that will be used in the design of a new generation of tall mass timber structures up to 20 stories.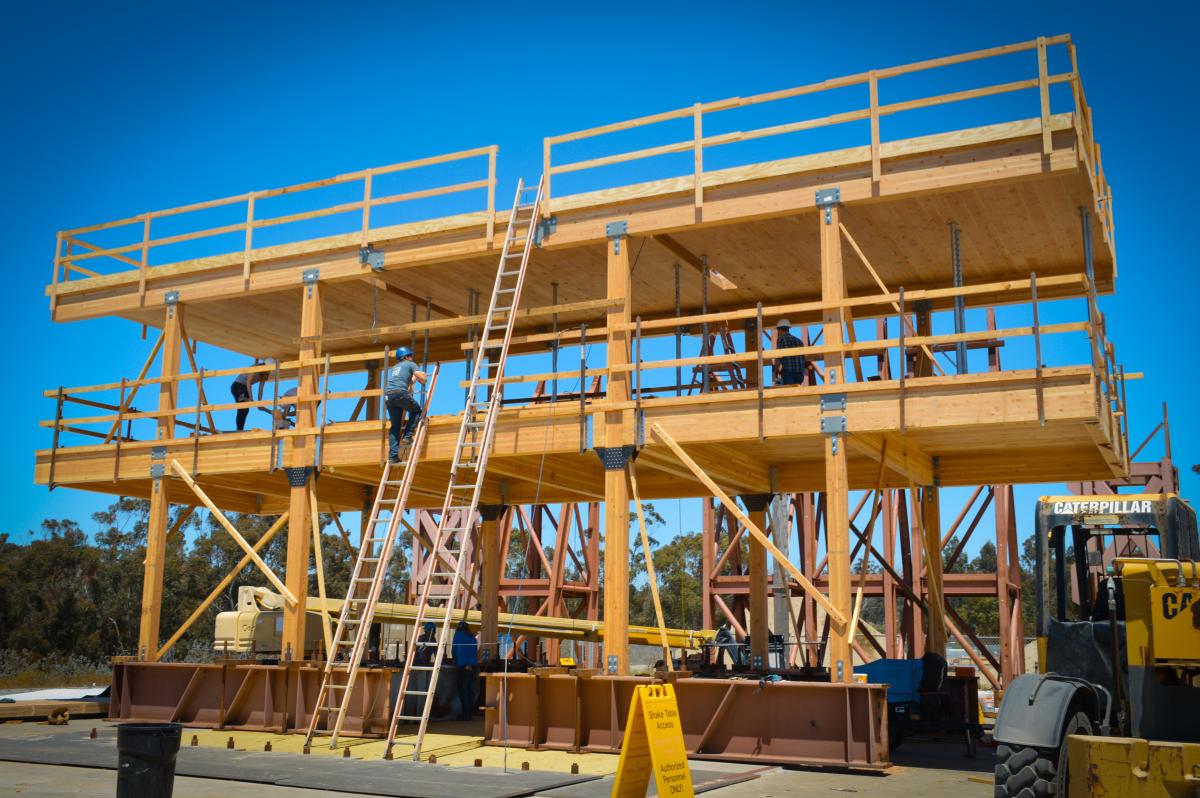 Researchers work on compeleting construction of the test-structure.
Photo Credit: University of California San Diego Jacobs School of Engineering
"The overarching goal of this project is to propose a design methodology for seismically resilient tall wood buildings for regions with high seismicity, meaning the building can be quickly repaired after large earthquakes to minimize loss of use," Pei said. "Several tests will be conducted at different shaking intensities representing frequent, design code level and maximum considered earthquake events."
The 22-foot-tall structure will be put through a tremor simulating the 6.7 magnitude 1994 Northridge earthquake in the San Fernando Valley, but for twice as long. Researchers will collect data through more than 300 channels in three phases of testing on the building. Data will be generated at pre-selected points to measure how the CLT panels bend and how the panels move relative to each other.
Researchers are particularly interested in a system that allows the building to rock in response to an earthquake and how the walls and floors interact during shaking.
"We have tested the rocking walls by themselves in the lab, but as structural engineers, we know that the system is not equal to the sum of its parts. There are interactions between the parts. That's why NHERI projects funded by the NSF are so critical. We are finally going to be able to get data on how the different components function as a system during strong earthquakes," Pei said. 
In a so-called "rocking wall system," vertical mass timber walls are connected to the foundation by post-tensioned rods that run up through the floor and special U-shaped steel energy dissipaters. The rods allow the walls to rock during an earthquake and snap back into their original upright position, minimizing deformation and resulting structural damage.
A consortium of universities is collaborating on the NSF project, including Mines, Colorado State University, University of Washington, Washington State University, Oregon State University, Lehigh University, University of Nevada Reno and University of California San Diego.
The two-story investigative testing also received support from multiple industrial partners including Katerra; Simpson Strong-Tie; Tallwood Design Institute; DR Johnson Lumber Co.; Forest Products Laboratory; City of Springfield, Oregon; Softwood Lumber Board; and MyTiCon Timber Connectors.
The NSF project also includes another large-scale test planned later this year at the NHERI-Lehigh testing facility. Based on the insights gleaned from this current set of tests and related research, the team will return to San Diego in 2020 to build, shake and ultimately burn an earthquake-resilient 10-story timber building on the UC San Diego shake table.
The project detail can be found on http://nheritallwood.mines.edu. Ongoing activity at the outdoor shake-table of the Natural Hazards Engineering Research Infrastructure facility is live-streamed by webcam at http://nees.ucsd.edu/video/.  Photos are available on Flickr at http://bit.ly/Shake714.
Contact:
Agata Bogucka, Communications Manager, College of Earth Resource Sciences & Engineering | 303-384-2657 | abogucka@mines.edu
Emilie Rusch, Public Information Specialist | 303-273-3361 | erusch@mines.edu