Posted: August 25, 2016
The Combustion Institute awarded its highest honor, the Bernard Lewis Gold Medal, to Colorado School of Mines George R. Brown Distinguished Professor of Mechanical Engineering Robert J. Kee at the 36th International Symposium on Combustion August 5 in Seoul, South Korea. Kee received the award in honor of his research in the field of combustion, particularly on pioneering development of chemically reacting flow simulations and the CHEMKIN family of models. The institute also honored Kee by requesting he give a plenary lecture on the future of "Combustion Interfacing with Emerging Technologies."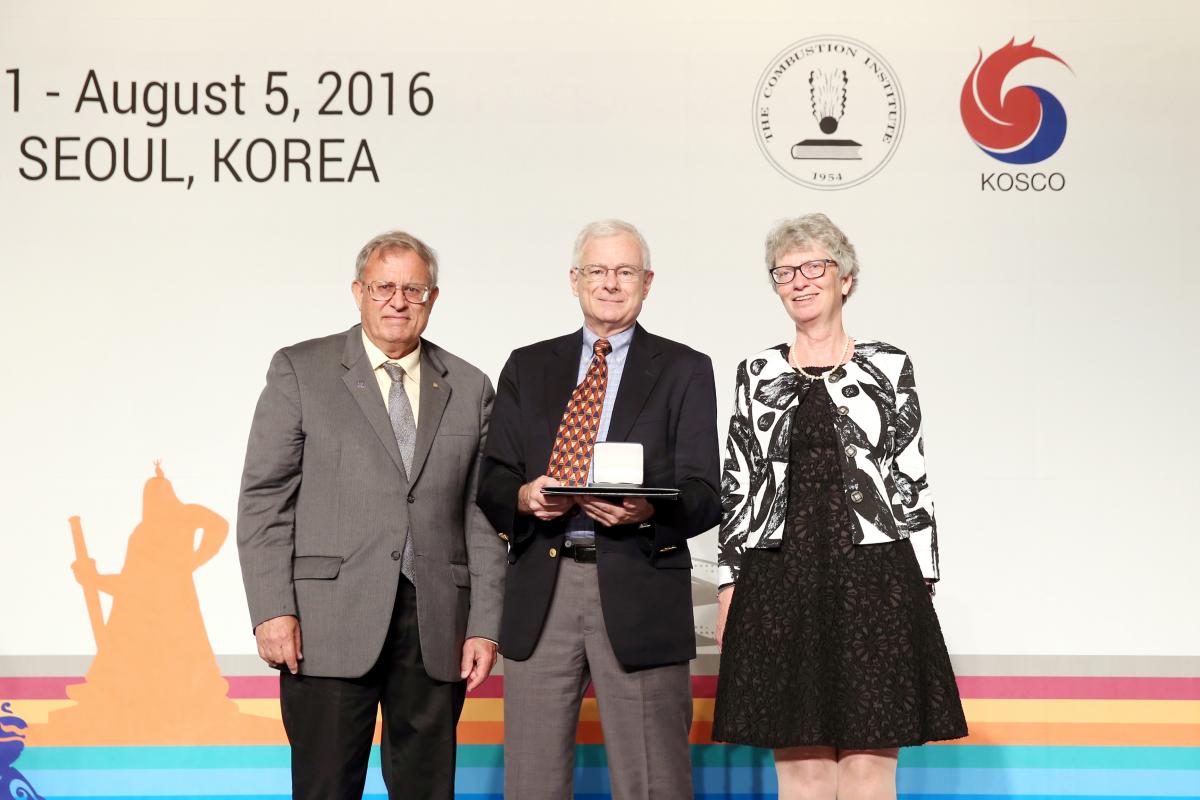 Charles Wesbrook, former CI president (2008-2012), Professor Robert Kee, and Katharina Höinghaus, CI President (2008-2016) at the Combustion Symposium in Seoul, South Korea. Photo Courtesy of the Combustion Institute.
Kee is the principal architect and developer of the CHEMKIN family of software, which has been the dominant modeling software in the field of combustion for more than 25 years. The software's wide adoption stems from its strong code architecture that facilitates ease of use, as well as Kee's extensive documentation that has been adopted and cited by thousands of researchers and developers worldwide as the seminal work in reactive flow modeling.
Kee continues to push the frontiers of reactive system modeling into new areas and is now acknowledged as an international leader in multiphysics modeling of electrochemical systems such as fuel cells and batteries and of multifunctional reactors for process intensification. This has led Kee to continue to develop software, as highlighted by a recently awarded contract from the Air Force to build the next generation of software for modeling reactive systems.
"Bob continues to set an example to all of us in research," reflected Greg Jackson, head of the Department of Mechanical Engineering at Mines, "by continually expanding and adapting his modeling skills to address high-impact technical challenges such as better, safer batteries and membrane reactors for upgrading natural gas. We are honored to have a senior colleague as creative, thorough and generous as Bob."
In addition to the Combustion Institute's Gold Medal, Kee has been the recipient of numerous awards, including the Combustion Institute's Silver Combustion Medal, the Bastress Award for Outstanding Contributions to Technology Transfer from Sandia National Laboratories, and the DOE Basic Energy Sciences Award for Sustained Outstanding Research in Materials Chemistry. In addition to more than 200 archival papers, Kee is also the principal author of the leading textbook, "Chemically Reacting Flow."
Contact:
Deirdre Keating, Communications Manager, College of Engineering & Computational Sciences | 303-384-2358 | dkeating@mines.edu
Mark Ramirez, Communications Manager, College of Applied Science & Engineering | 303-384-2622 | ramirez@mines.edu