Posted: March 24, 2016
Mines Assistant Professor of Physics Kyle Leach joined about 70 other nuclear physicists in Washington, D.C., on March 14 to advocate for federal nuclear science research funding.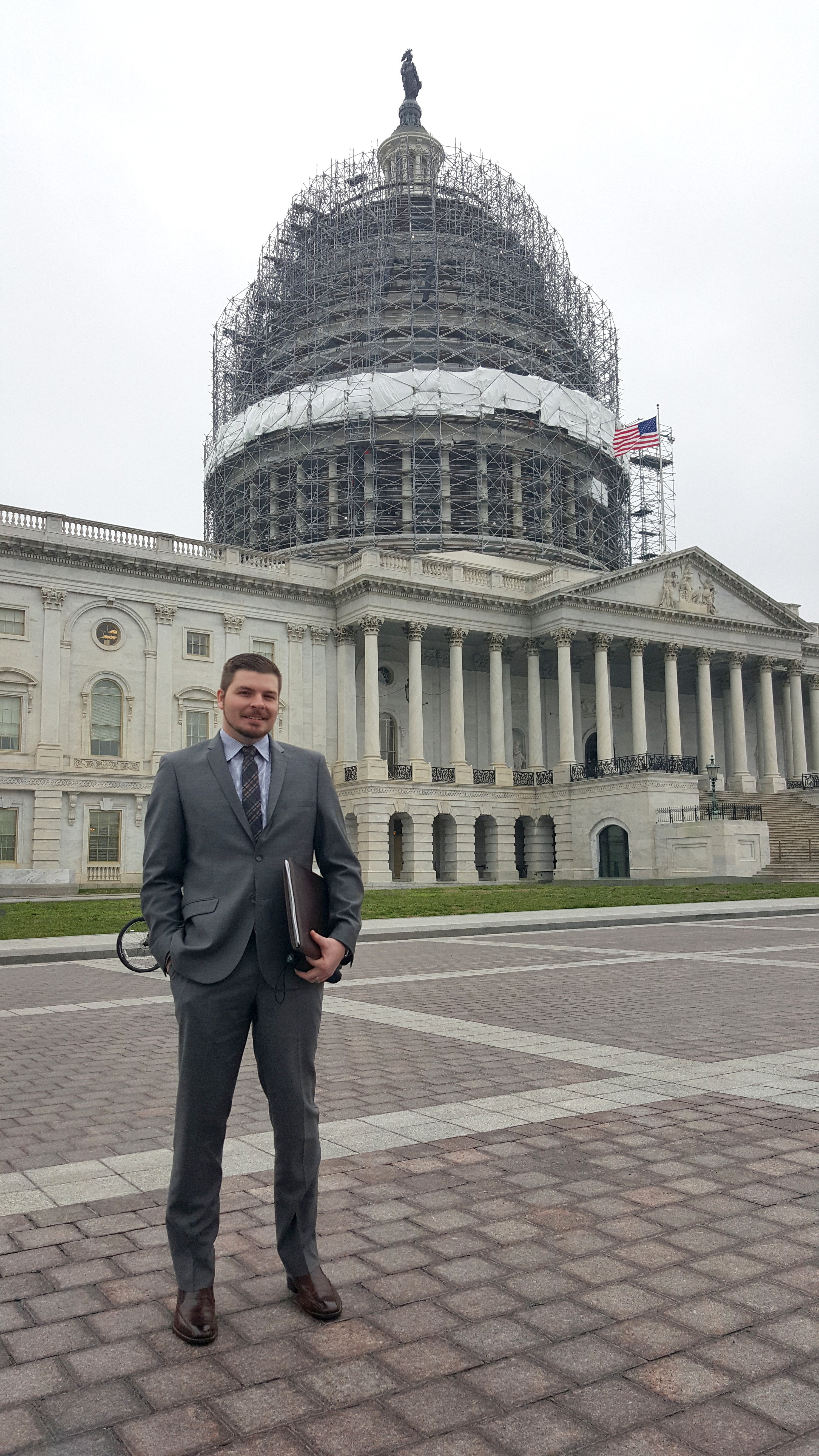 Leach was the lone representative from Colorado for Nuclear Physics DC Day. He met with the staff of Rep. Ed Perlmutter, who represents the 7th District of Colorado, and with two professors from Texas A&M also met with the staff of the senators from Colorado (Cory Gardner and Michael F. Bennet) and Texas.
The physicists asked members of Congress to support President Obama's FY 2017 budget request for the U.S. Department of Energy Office of Science, particularly the $635.7 million for nuclear physics -- a 3 percent increase over the previous fiscal year. According to the group, this funding "would allow the U.S. nuclear physics community to maintain our nation's leadership role in the field, continue groundbreaking basic research, develop new technologies to benefit society, and educate the next generation of scientists."
In particular, Leach represented the interests of the $700 million Facility for Rare Isotope Beams under construction at Michigan State University. "My research group, and the nuclear physics research community at Mines, will be heavily involved in research at this new facility over the next several decades," he said.
The FRIB will provide intense beams of rare isotopes to help scientists better understand the characteristics of atomic nuclei, their origin in the cosmos, and their potential applications.
"Our message was very well received, especially within our district and state," Leach said. "Funding for the basic sciences has largely had bipartisan support over the years, with a strong emphasis on training the next generation of scientists."
Leach said he was impressed with the questions from staff members. "In most cases, we had wonderful, engaging discussions."
Contact:
Mark Ramirez, Information Specialist, College of Applied Science & Engineering | 303-384-2622 | ramirez@mines.edu
Karen Gilbert, Director of Public Relations, Colorado School of Mines | 303-273-3541 | kgilbert@mines.edu