Posted: May 10, 2018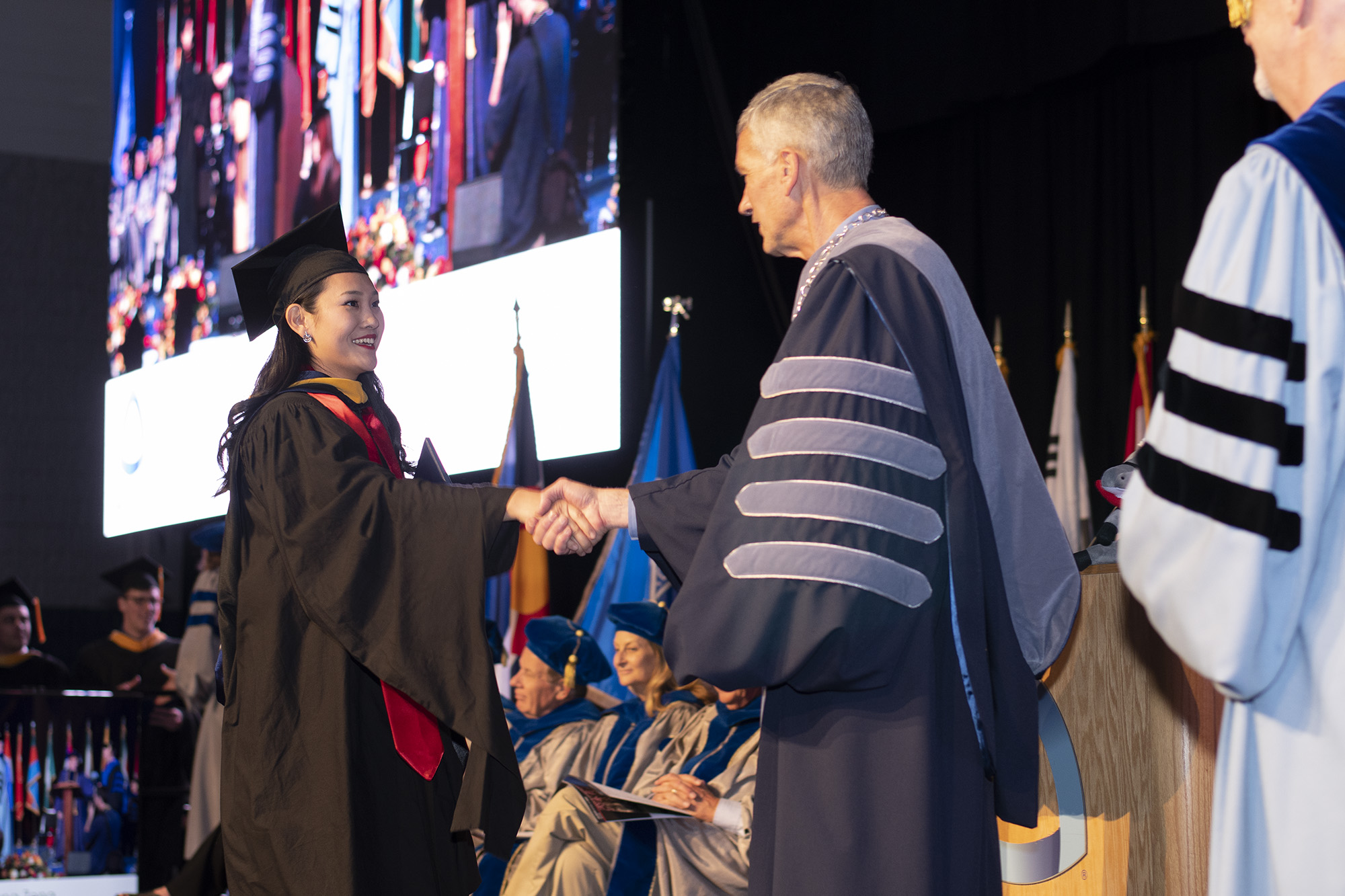 Colorado School of Mines conferred 201 master's degrees and 52 doctoral degrees at its Spring 2018 Graduate Commencement on May 10, kicking off two days of commencement exercises at the university.  
The Dr. Bhakta Rath and Sushama Rath Research Award, recognizing the Mines doctoral graduate whose thesis demonstrates the greatest potential for societal impact, was awarded to Chuancheng Duan, PhD in materials science.
Duan recently had research published in the journal Nature that demonstrated for the first time the long-term durability and fuel flexibility of protonic ceramic fuel cells. His thesis was titled "Ceramic Electrochemical Cells For Power Generation And Fuel Production."
"Chuancheng is one of the most motivated and driven PhD students I've ever seen – he just works so hard, 80 hours a week, week in and week out. He's exceptionally dedicated, he's a self-starter and always has really good ideas and is really enthusiastic," said advisor Ryan O'Hayre, professor of metallurgical and materials engineering. "His work on protonic ceramic fuel cells could lead to commercial products for emergency or remote off-grid power applications and someday may even provide a new, greener way to power our homes and schools."
The Undergraduate Commencement ceremony will take place at 9 a.m. Friday, May 11, at Marv Kay Stadium at the Harold M. and Patricia M. Korell Athletics Center. A live webcast will also be available on the Mines YouTube channel. For more information, go to commencement.mines.edu.
ADDITIONAL GRADUATE STUDENT AWARDS AND RECOGNITIONS:
The W. Wesley Eckenfelder Graduate Research Award, a national award given by the American Academy of Environmental Engineers and Scientists to an environmental engineering or environmental science graduate student whose research contributes to the knowledge pool of wastewater management: Andrew Pfluger, PhD, Civil and Environmental Engineering.
The Chemical and Biological Engineering Outstanding Thesis Award: Andrew Motz, PhD, Chemical Engineering, for "Development Of Heteropoly Acid Containing Polymer Electrolytes For Use In Electrochemical Energy Conversion Devices."
The Mendenhall Prize, awarded by the Department of Geophysics to the department's outstanding graduate students: Samir Jreij, Master of Science; and Aline Melo, PhD
The University Ethics Scholars Award: Ian Kramer, Master of Science, Mechanical Engineering
MILITARY COMMISSIONS:
Peter S. Lee, Master of Science, Engineering and Technology Management, will be commissioned as a second lieutenant in the United States Army.
MORE COMMENCEMENT PHOTOS:
CONTACT
Emilie Rusch, Public Information Specialist, Communications and Marketing | 303-273-3361 | 
erusch@mines.edu
Mark Ramirez, Managing Editor, Communications and Marketing | 303-273-3088 | 
ramirez@mines.edu