Posted: October 5, 2018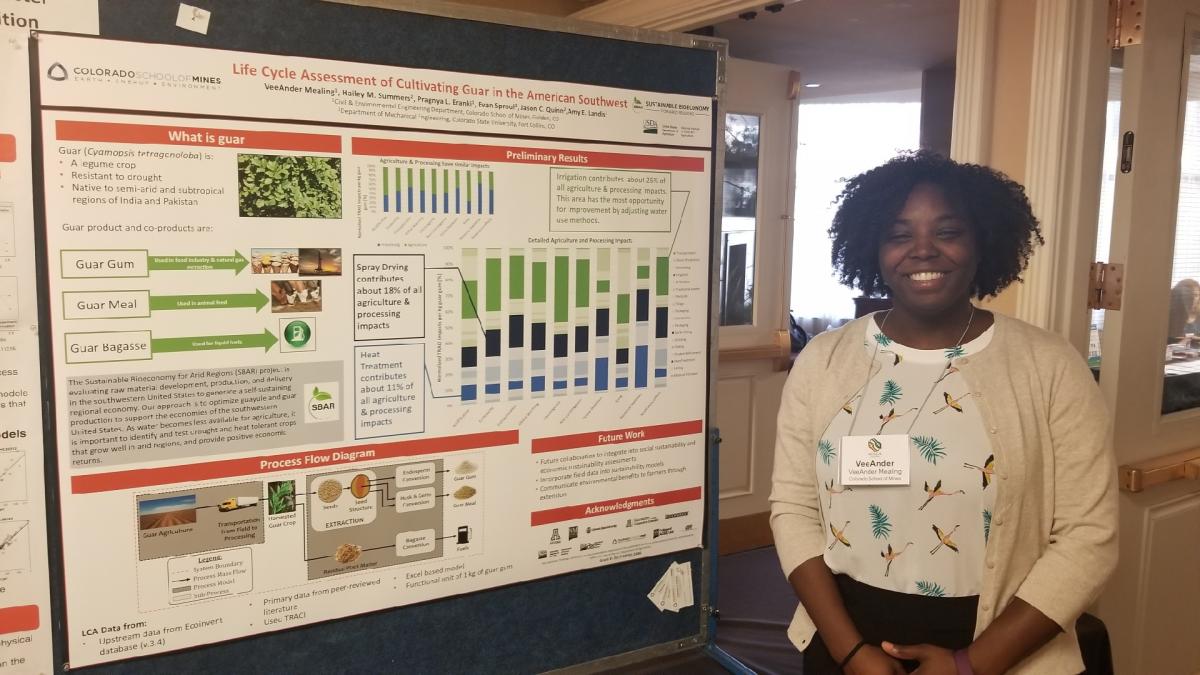 VeeAnder Mealing, a doctoral student in the Civil and Environmental Engineering Department, finished in second place at the student technical poster contest at the American Center for Life Cycle Assessment XVIII conference in September.
Mealing's work is part of the United States Department of Agriculture's Sustainable Bioeconomy for Arid Regions Coordination Agricultural Projects (USDA SBAR CAPS). The SBAR evaluates raw material development, production and delivery in the southwestern United States to generate a self-sustaining regional economy.
As water in that region becomes less available for agriculture, Mealing is working to identify and test drought and heat tolerant crops that can provide an economic return. Mealing's research explores the environmental impact of guar agriculture and its production potential. Guar is a legume crop native to semi-arid and subtropical regions of India and Pakistan that can be used in the food industry, natural gas extraction, animal feed and for liquid fuels. 
Each poster was evaluated by three reviewers. Scores reflected the presenter's ability to clearly present a new methodology or successful application of a life cycle assessment to an environmental problem, as well as the content of their poster and oral presentation. Mealing received $150 for placing second at the poster competition.
CONTACT
Joe DelNero, Digital Media and Communications Manager, Communications and Marketing | 303-273-3326 | jdelnero@mines.edu
Mark Ramirez, Managing Editor, Communications and Marketing | 303-273-3088 | ramirez@mines.edu