Posted: December 14, 2018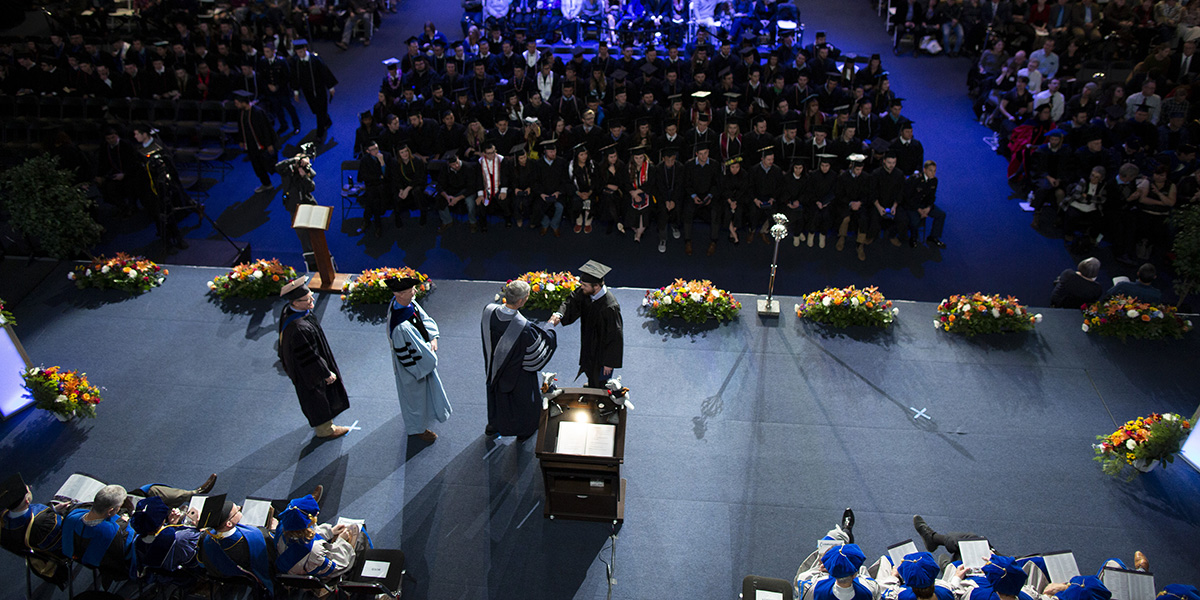 Colorado School of Mines celebrated its midyear commencement Dec. 14, conferring a total of 226 bachelor's, 187 master's and 55 doctoral degrees during undergraduate and graduate ceremonies at Lockridge Arena.
Special recognition was given to students of high scholastic achievement, active university involvement and innovative research at both ceremonies.
Undergraduate awards and recognitions
The Fall 2018 Outstanding Graduating Seniors, each representing a different academic major, were chosen for their scholastic achievement and involvement in departmental and school activities:
Justin Banks, Mining Engineering
Banks, from Longmont, Colorado, will join Dyno Nobel as an underground construction account manager/technical explosives representative. 
Favorite Mines memory: "Working at the Edgar Mine and teaching other students traditional mining operations."
Vy Duong, Civil Engineering
Duong, from Lakewood, Colorado, plans to travel in South America before starting a position as a field engineer with Turner Construction in Portland, Oregon.
Favorite Mines memory: "Studying abroad in Vietnam in the fall of 2017 to study Da Nang's public transit system and reconnect with my culture through art and poetry."
Kirsten Marble, Environmental Engineering
Marble, from Clancy, Montana, will attend graduate school at Mines to study hydrology.
Favorite Mines memory: "Everything about freshman year. I formed a lot of new friendships that will long outlast my time here at Mines."
Nicholas Lipski, Metallurgical and Materials Engineering
Lipski, from Centennial, Colorado, will be working as a metallurgical engineer at Quest Integrity, a failure analysis consulting firm, where he hopes to make the world a safer place by preventing dangerous and catastrophic failures from occurring in the workplace.
Favorite Mines memory: "The late-night study groups I had throughout my time here, which I think encompass the Mines experience very well. Although stressful, these study nights had so many laughs, friends and a shared determination."
Luke Pierce, Electrical Engineering
Pierce, from Denver, Colorado, will join Raytheon as a software engineer in June. 
Favorite Mines memory: "During my senior design project, my team and I visited Ball Aerospace and they gave us a tour of the entire facility, including their massive antenna chambers."
Jennifer Behm, Geology and Geological Engineering
Behm, from Centennial, has received several job offers in industry and is still deciding between them.
Favorite Mines memory: "Enjoying E-Days with my friends."
Shurraya Denning, Chemical Engineering
Denning, from Monument, Colorado, plans to pursue her PhD in chemical engineering through the Center for Hydrate Research at Mines, focusing on the use of gas hydrates as a membrane for purifying natural gas.
Favorite Mines memory: "Playing intramural basketball with the lifelong friends I made at Mines, and laughing as the referee had to remind us of the rule of no running with the ball without dribbling. We were so bad yet had so much fun."
Connor Banks, Mechanical Engineering
Banks, from Denver, intends to work under Mines Professor Robert Kee as a mechanical engineering master's student starting in fall 2019 after completing an internship or two in the lithium battery, automotive or aerospace industries.
Favorite Mines memory: "Steelheading on the Olympic Peninsula, proposing to my wife in Aspen, living with the best group of guys at Lee Manor and my time with the Careys, the Coffeys, the Mines Navigators and Team DiggerLoop.
Steven Benfield, Petroleum Engineering 
Benfield, from Centennial, plans to travel to Chile, Argentina, England and Hungary before launching his career as a petroleum engineer with Encana in Houston. 
Favorite Mines memory: "Going rafting in freezing temperatures and snow during the summer petroleum field session in Massadona, Colorado."
John Alley, Applied Mathematics and Statistics (statistics specialty)
Alley, from Jordan, New York, has accepted a position as a management consultant with Credera in Denver. 
Favorite Mines memory: "All of the M Climbs. From the first time I walked up Mt. Zion, I've been enchanted with the M. Whether it's leading new freshmen up the mountain or getting my rock, the M will always hold a special place in my heart."
Matthew Baldin, Applied Mathematics and Statistics (computational and applied mathematics specialty)
Baldin, from Parker, Colorado, aims to improve the world and work on interesting problems in mathematics and computer science.
Favorite Mines memory: "Twice qualifying for the International Collegiate Programming Contest's world finals in China and Portugal by winning the regional competitions with my teammates. I also loved all of the time spent talking about mathematics and computer science in the Alamode lab."
Alison Biery, Chemistry
Biery, from Denver, will continue her research in novel polymer synthesis while pursuing a master's degree in chemistry at Mines.
Favorite Mines memory: "Lighting things on fire in qual lab."
Caroline Ellis, Engineering Physics
Ellis, from Corpus Christi, Texas, has accepted a position at Johnson Space Center in Houston, where she'll be working on the International Space Station program. 
Favorite Mines memory: "The M Climb and taking Intro to Space Exploration. Best class ever."
Benjamin Beatty, Computer Science
Beatty, from Westminster, Colorado, plans to work in industry following graduation. 
Favorite Mines memory: "Singing with the barbershop quartet."
Levi Cecil, Economics
Cecil, from Longmont, will be working at Xcel Energy in Denver as a gas resource planning analyst.
Favorite Mines memory: "Beating CSU-Pueblo football at home on Thursday night during the 2016 season."
The Alan Kissock Award is awarded to a graduating senior in metallurgical and materials engineering, acknowledging creativity in metallurgy: Nicholas Lipski
The Brunton Award in Geology is awarded in recognition of the highest scholastic achievement and interest in and enthusiasm for the science of geology: Emily Trousil
The Faculty Choice Award in Computer Science is given to a top graduating senior who helped improve computer science at Mines: Samuel Sartor
The Outstanding International Undergraduate Award is presented to an international student who has demonstrated scholastic achievement: Felipe Guerreiro da Silva
The Maryanna Bell Kafadar Award is presented to the graduating senior who has excelled in humanities courses and humanities-related activities: Shurraya Denning
The Outstanding Senior Research Award in Chemistry is awarded to a student who demonstrates superior performance and creativity in undergraduate research: Riley Hansen
The Outstanding Undergraduate Research Award in Computer Science is awarded to a top graduating senior in computer science with significant research contributions: Matthew Baldin
The Physics Faculty Distinguished Graduate Award is presented by the faculty of the department to graduating seniors with exceptionally high academic achievement in physics: Hannah North
The President's Senior Scholar Athlete Award is presented to one graduating female athlete and one graduating male athlete with a cumulative grade point average of 3.0 or higher, has lettered in a sport during their senior year and who demonstrated leadership qualities of an exemplary student athlete: Jennifer Kendall and Brody Oliver
Military Commissions
The following graduates will be commissioned as second lieutenants in the United States Air Force:
Mary Bell, Mechanical Engineering
Scott Kumjian, Geological Engineering
The following graduates will be commissioned as second lieutenants in the United States Army:
Michael Harris, Chemical and Biochemical Engineering
Garrett Isgar, Petroleum Engineering
Graduate awards and recognitions 
The
Dr. Bhakta and Sushama Rath Research Award
, recognizing the Mines doctoral graduate whose thesis demonstrates the greatest potential for societal impact, was awarded to
Brenden Ortiz, PhD in materials science.
During his time at Mines, Ortiz published 18 papers, as well as two book chapters and a review, said Eric Toberer, associate professor of physics and Ortiz' faculty advisor. 
"Brenden's work focused on the discovery of new semiconductors for energy applications, with a particular emphasis on thermoelectric, photovoltaic and magnetic materials. Notable within these efforts was an unusually close integration with computational theory to guide experimental efforts and high-throughput synthetic approaches – fittingly, his thesis was titled 'Accelerating the discovery and optimization of thermoelectric materials,'" Toberer said. "Equally notable was Brenden's desire to enable students from all walks of life to become scientists. Throughout his PhD, he was an organizer within the Bridge Opportunities for Transfer Student Success program, which pairs incoming community college students with research groups for a summer of research before they start at Mines."
Other graduate awards and recognitions included:
Chemical and Biological Engineering Outstanding Thesis Award: Yue Hu
University Ethics Scholars: Hannah Grover, Nuclear Engineering
More commencement photos
CONTACT
Emilie Rusch, Public Information Specialist, Communications and Marketing | 303-273-3361 | 
erusch@mines.edu
Mark Ramirez, Managing Editor, Communications and Marketing | 303-273-3088 | 
ramirez@mines.edu