Posted: April 6, 2017
The Colorado School of Mines Student Chapter of the American Association of Petroleum Geologists was chosen as the 2017
Outstanding Domestic Student Chapter
during AAPG's 100th Anniversary Annual Convention and Exhibition.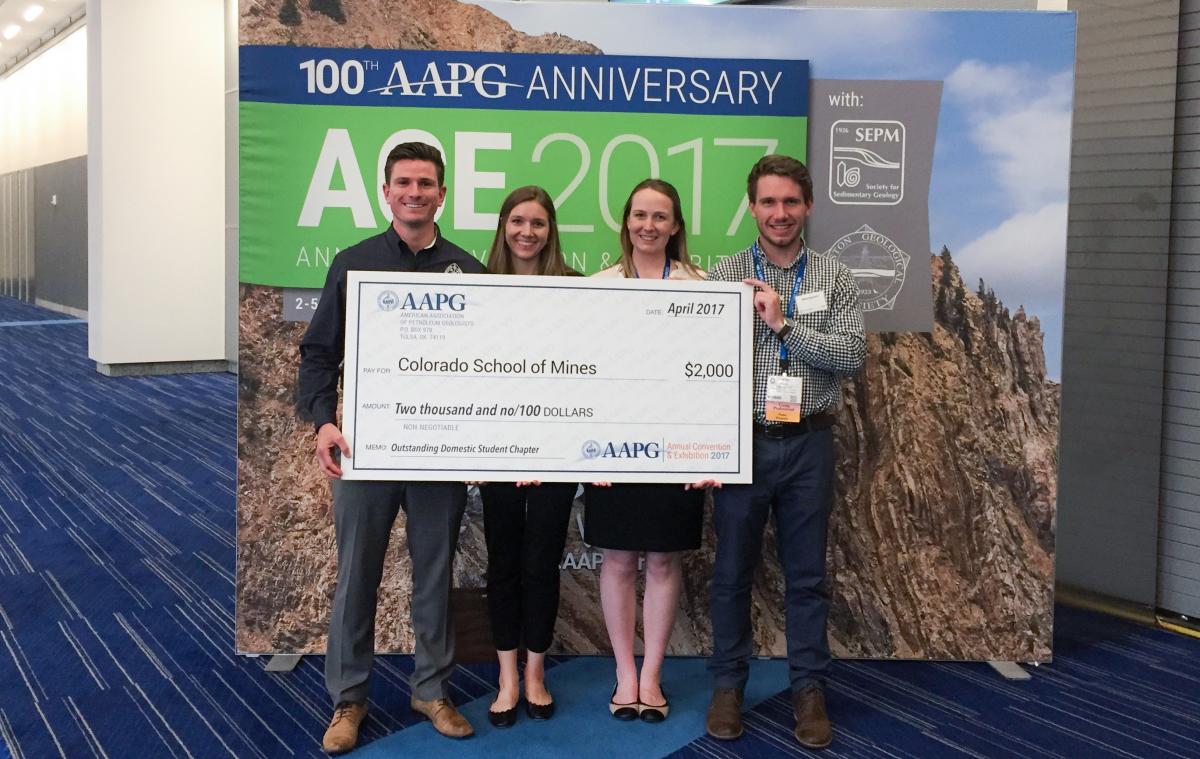 Mines AAPG Student Chapter members hold their award check. Left to right: Joshua Payne, Chapter President; Elizabeth Wilson, Treasurer; Julia Peacock, Vice President; Mark Hansford, Secretary.
ACE 2017
was held April 2 to 5 in Houston, Texas, with the chapter's high honor being awarded at the Student Reception on April 3. Several speakers were there to address the student chapters, including AAPG President Paul W. Britt.
Chapter President Joshua Payne, a master's student in geology, couldn't be more proud. "Personally, as a student of the science and a great beneficiary of the opportunities and resources available through AAPG and its rich history, there is no higher honor at this stage of my career," he said. Payne went on to boast about his fellow chapter members, noting the "exceptional character and leadership of each of the members."
The mission statement of the Mines chapter, according to Payne, "is to advance the science of geology as it relates to petroleum through four themes: education, industry, networking and community involvement." Participation in events such as ACE, but also core activities such as a weekly lunch-and-learn series, technical workshops, service events, field trips and more allow the chapter to thrive, this being its 36th year in existence at Mines. Although the group is officially housed within the Department of Geological Engineering, membership extends across the reaches of the geophysics and petroleum engineering departments, reflecting the multidisciplinary nature of the field.
Teamwork at this cross-disciplinary level has proven essential to the group's success. "We have understood our individual strengths and used each in a way to complement another," said Payne. "We have set highest goals and strived to accomplish each in a manner that has far exceeded expectations. We have learned from each other."
Payne also noted the importance of the history of AAPG at Mines, saying that the award not only reflects the work of the current group of students, "but is a result of the culmination of the body of work put together by the chapters who have preceded us—past presidents, past officers and past members—who have showed great responsibility in ensuring the well-being of the chapters of the future."
Despite the recent volatile nature of the oil and gas industry, Payne is confident that the AAPG chapter at Mines will continue to prosper. In fact, the chapter's $2000 award will be put away to be used by next year's officers to support its mission.
"This is a reflection on the overall culture that is inherent to Colorado School of Mines, one of integrity, innovation, success and a will to never give up."
Contact:
Agata Bogucka, Communications Manager, College of Earth Resource Sciences & Engineering | 303-384-2657 | 
abogucka@mines.edu
Mark Ramirez, Managing Editor, Communications and Marketing | 303-273-3088 | 
ramirez@mines.edu