Posted: August 30, 2016
A Mines PhD candidate in metallurgical engineering hopes to speak for his fellow students as a member of the board of directors of the Heat Treating Society, one of the largest groups in ASM International.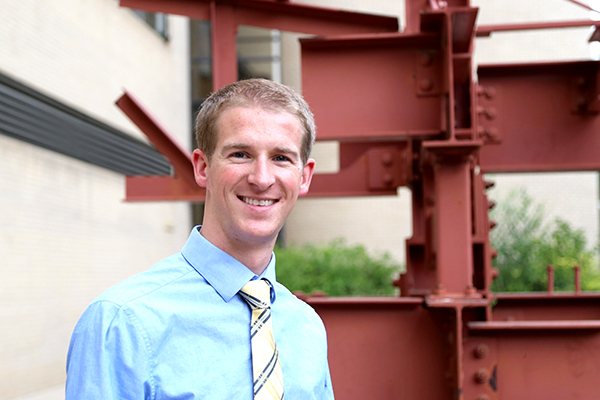 Blake Whitley, who conducts research in the Advanced Steel Processing and Products Research Center, will serve for one year as a nonvoting member beginning this September. His first board meeting takes place in October, during the Furnaces North America trade show in Nashville, Tenn. The board typically meets four to six times a year, with two held face-to-face and the rest held via teleconference.
"The main thrust is, let's get a voice here that can really speak to the needs of students and young professionals," said Whitley. "How do they like to be communicated with? What types of resources, activities and events would they be interested in?"
Whitley served a similar role as a student board member of ASM International, the world's largest group of metals-centric materials scientists and engineers, from 2012 to 2013, his first year at Mines. That experience gave him a good overview of the organization, and allowed him to learn what he wanted to focus on. He taught at ASM's materials camp one year, and plans local events as part of the Rocky Mountain chapter.
"I'm fairly outgoing, so I enjoy the networking aspect," Whitley said. During his time on the ASM board, he met the president, four past presidents, and the next two presidents. "They're all scientists, they run companies, lead groups at national labs—I found it really beneficial," Whitley said.
"It's well worth it," Whitley said, even with the busy life of a graduate student. "If it takes me four and a half to five years to graduate, a commitment of two days every six months isn't going to make a big difference." Whitley is also active in The Minerals, Metals and Materials Society and the Association for Iron & Steel Technology.
Whitley is advised by John Speer, the John Henry Moore Distinguished Professor of Metallurgical and Materials Engineering and director of the ASPPRC. Whitley's research concerns thermomechanical processing—in particular, a new style of bar steel rolling for microalloyed steels, and induction hardening, a follow-up heat treatment.
The research has wide-ranging potential applications, but Whitley currently works with companies in the automotive and heavy machinery industries.
"I love Mines," said Whitley, who completed his undergraduate degree at the University of Alabama. "Colorado's treated me well—I might want to stick around afterwards," he said. "I'll see how it goes."
Contact:
Mark Ramirez, Communications Manager, College of Applied Science & Engineering | 303-384-2622 | ramirez@mines.edu
Ashley Spurgeon, Editorial Assistant, Mines magazine | 303-273-3959 | aspurgeon@mines.edu