Posted: October 14, 2016
W. Lloyd Wright, longtime school physician for Colorado School of Mines and the namesake of the university's Student Wellness Center died Sept. 16 in Paonia, Colo. He was 99 years old.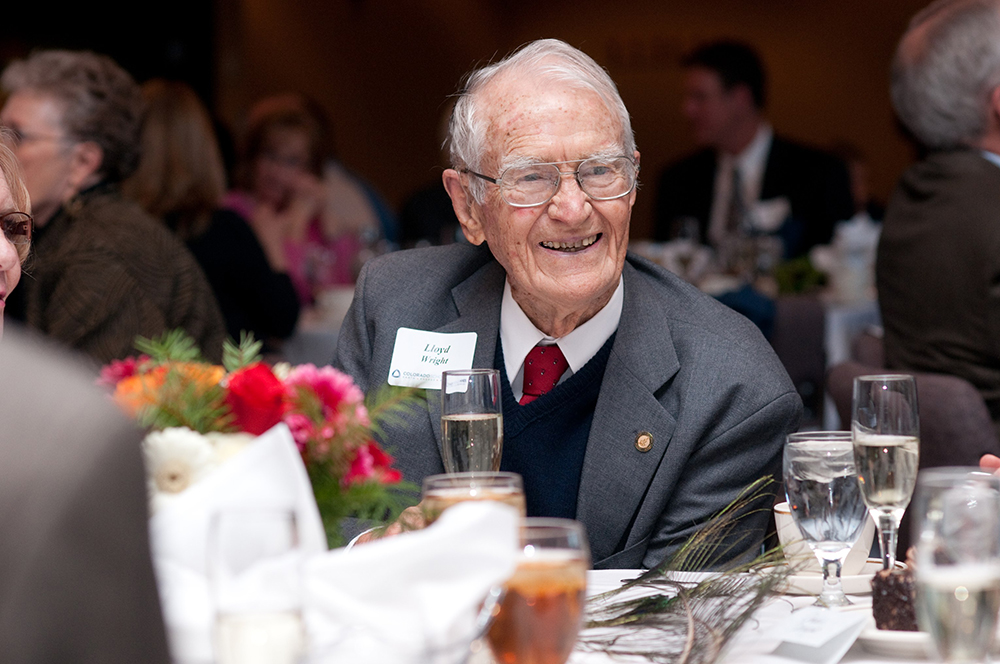 Born June 15, 1917, in Sargent, Colo., Wright graduated from the University of Colorado School of Medicine in 1942 and went on to serve in World War II.
In 1946, Wright and his wife, Lily Jane, settled in Golden. He served part-time as Mines' school physician until 1968 and also established his own medical practice, which he closed in 1980. He went on to work as medical director at Coors Brewery, then Rocky Flats, until 1988. Lily Jane died in 1988; Wright married Jo Ann Wilhelm in 1989 and they retired to Paonia a couple of years later.
Wright was awarded the Mines Medal in 1986 for his personal and professional contributions to the campus community.
In September 2012, Mines celebrated the opening of the $3.2 million, 10,000-square-foot W. Lloyd Wright Student Wellness Center. Construction was largely funded by the Galena Foundation, established by Wright's nephew, F. Steven Mooney—a member of the Mines Foundation Board of Governors and a 1956 Mines graduate—and Mooney's wife, Gayle.
"We thought this would be a good way to memorialize his association with and contributions to the school," Steven Mooney said. "I think he was very pleased about the new facility and how nice it was, and he was excited to have his name on it."
The Student Wellness Center is a far cry from the rudimentary facilities Wright had during his tenure at Mines. Wright treated his Mines patients in a house where the Geology Museum now stands, said Mooney, who had a broken wrist sustained in a game of touch football repaired there. "It was just a small house that had been made into a clinic, with a couple of treatment rooms and a couple of beds," he said. "There was a nurse—that was it."
Wright had his private practice in the armory building just down the hill from campus before building a clinic at 19th and Ford streets, Mooney said. "I think there's a whole generation of children born in Golden who were assisted into the world by Lloyd Wright," he said. One estimate has him delivering more than 2,000 babies—particularly the children of veterans returning from the Korean War—many of whom would end up attending Mines, Mooney said.
Wright was an avid supporter of Mines football team and was at virtually every game. "If he ever missed one, I don't remember it," Mooney said. Wright even returned to Mines last year for the grand opening of the new Marv Kay Stadium.
"He was such a great guy that I forget to tell people that he's my uncle by marriage," said Mooney. "We have a large and very close family, and he was a part of that—we were frequently at his home, the cousins did a lot of things together. He was always a mentor and a guide on how a man ought to live his life."
Wright is survived by his wife, Jo Ann; a son, Herb Wright of Lafayette, Colorado; two stepsons, Chandler Wilhelm of Houston, Texas, and Quinn Wilhelm of Lakewood, Colorado; two daughters, Natalie Smith of Scottsdale, Arizona, and Candace Olsen of Golden; 27 grandchildren; and 27 great-grandchildren.
"He was a great man," Mooney said. "He did a lot for a lot of people, and he lived his life in exemplary fashion."
Contact:
Mark Ramirez, Communications Manager, College of Applied Science & Engineering | 303-384-2622 | ramirez@mines.edu
Agata Bogucka, Communications Manager, College of Earth Resource Sciences & Engineering | 303-384-2657 | abogucka@mines.edu