Posted: February 28, 2017
The Department of Geology and Geological Engineering recently hosted WarmeFest, a two-day celebration in honor of Professor Emeritus Dr. John Warme, bringing together over 100 alumni, colleagues and friends from across the world to celebrate his 50-year career.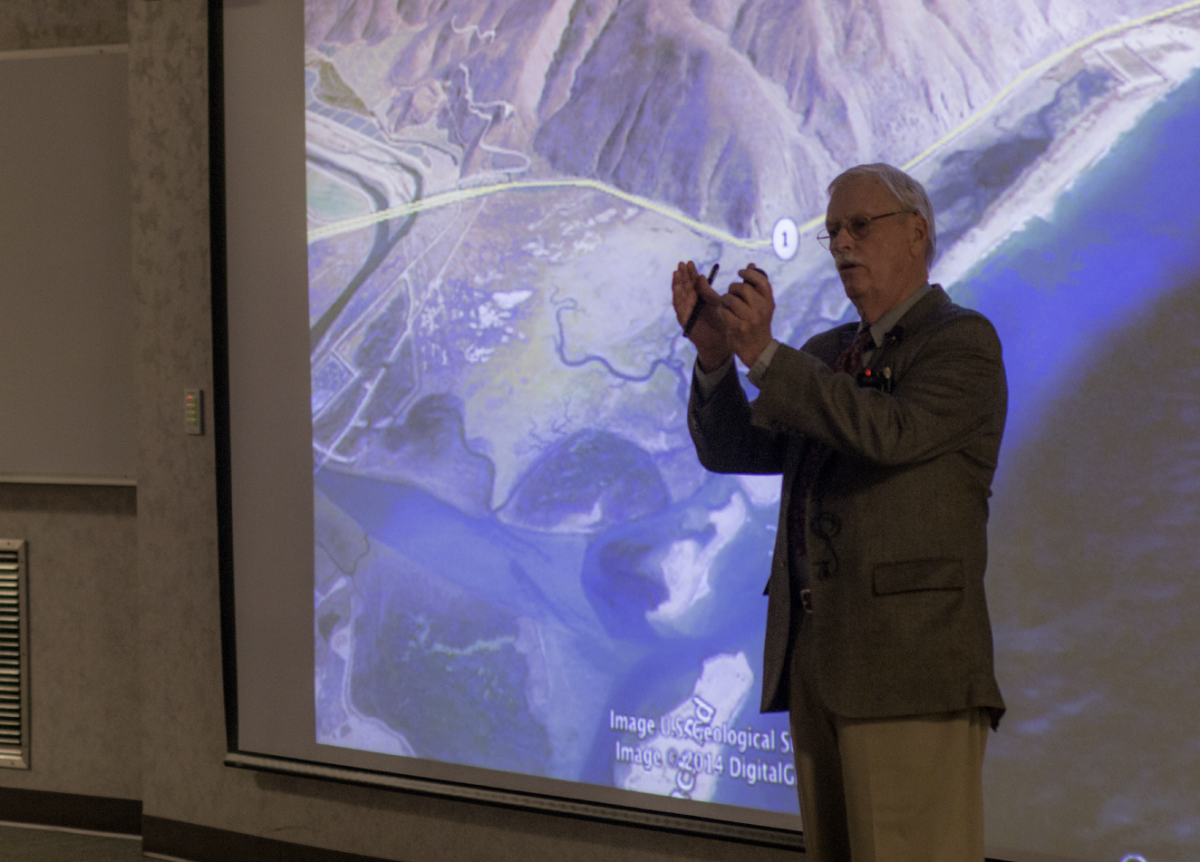 Professor Emertius John Warme reminisces on past expeditions during his keynote speech.
"Planning for the WarmeFest was a complete surprise to me, and was set up before I was told," said Warme. "The committee who put it together kept it a secret from me for three and a half months while they set it up, attending to every detail with cooperation from the Alumni Association, Foundation, college and department."
After earning a bachelor's degree from Augustana College in Illinois and a PhD from UCLA, Warme went on to hold a postdoctoral appointment as a Fulbright Scholar at the University of Edinburgh in Scotland. He began his teaching career at Rice University in 1967, moving up the ranks from assistant to full professor prior to joining the Colorado School of Mines faculty in 1979. Warme served as the director of the Exploration Geosciences Institute during his tenure. He was granted emeritus status upon retirement in 2002.
Warme stated that he felt "deeply grateful to realize many things through this event" of which he was not fully aware. "It was a chance for me to review my career for myself as well as outline it for others, and realize that my academic history touched so many people who expressed their feelings," he said.
"We all enjoyed learning more about Dr. Warme's distinguished and eventful career," said Geology and Geological Engineering Associate Professor Piret Plink-Björklund, one of the event's organizers.
The Friday program included a welcome from Mines President Paul Johnson, as well as both technical talks and personal stories reflecting on research, field and classroom experiences with Warme.
"WarmeFest was a wonderful event honoring Dr. John Warme," said College of Earth Resource Sciences and Engineering Dean Ramona Graves. "John's scientific contribution to geology and his commitment to education are renowned. I personally enjoyed reminiscing with him about our co-taught classes and research. He was an important mentor to me as a young faculty member."
A similar event honoring Dr. Robert J. Weimer's 54 years of contribution to the Geology and Geological Engineering Department, WeimerFest, was held in 2004. In October 2011, the Mines Geology Trail was dedicated to Weimer. Similarly to WeimerFest, attendance registration fees for WarmeFest will be used to enrich the department, particularly students' field activities.
"Every faculty should have such a marvelous chance to gather with former students, faculty and research colleagues, family and good friends, in the campus setting that was their academic home," said Warme, giving his sincerest thanks to all involved in organizing the event.
View more photos from the event in the slideshow below.
Contact:
Agata Bogucka, Communications Manager, College of Earth Resource Sciences & Engineering | 303-384-2657 | 
abogucka@mines.edu
Mark Ramirez, Managing Editor, Communications and Marketing | 303-273-3088 | 
ramirez@mines.edu