Posted: September 19, 2013
Colorado School of Mines unveiled a plaque honoring the university's first endowed department head position Sept. 17.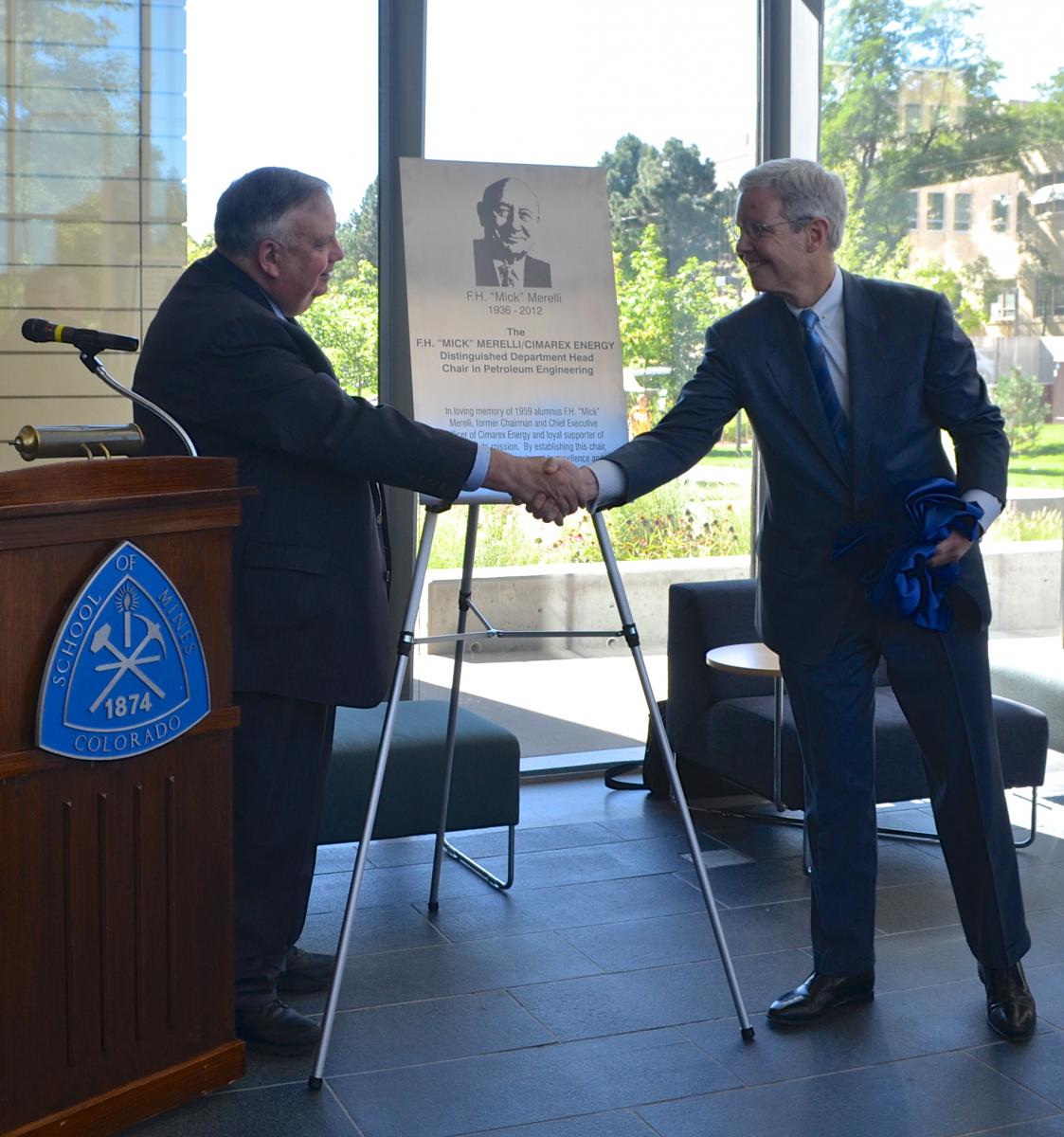 The F.H. "Mick" Merelli/Cimarex Energy Distinguished Department Head Chair in Petroleum Engineering was established by Cimarex Energy Co. earlier this year and will help the university attract and retain experts who inspire innovation and spur multidisciplinary research.
"By establishing this first of its kind position at Mines, Cimarex Energy has demonstrated the value they place on a Mines education while carrying forward the legacy of one of our accomplished alumni," says Mines President Bill Scoggins. "A distinguished endowed chair at the department head level will enable Mines to attract one of the world's foremost experts in resources and energy to lead our Petroleum Engineering Department.  Moreover, the chair further strengthens the stature and global recognition of petroleum engineering and other academic programs at Mines."  
Merelli, a 1959 Mines graduate, was a loyal supporter of the university throughout his 52-year career in the oil and gas industry. In 2001, Mines recognized him with its highest honor for alumni, the Distinguished Achievement Metal, before he passed away in August 2012.
"Mick had an unbelievable ability to recognize talent in others," said Tom Jorden, 1980 Mines alumnus and the current chairman, CEO and president of Cimarex. "He would handpick people and find that spark of ability in them, give them responsibility and challenge them to do things that they didn't think they could do. He was as good a mentor as I've ever seen."
Cimarex, a Denver-based independent oil and gas company, has had a strong connection with Mines for many years. "We are happy to invest in Mines by establishing the F.H. 'Mick' Merelli/Cimarex Energy Distinguished Department Head Chair in Petroleum Engineering," said Jorden. "We look at Mines' Petroleum Engineering Department as a real source for problem-solving, both for our company for the world, and we are thrilled to honor Mick Merelli in this way."
A search to fill the distinguished endowed chair will soon begin. According to the agreement, the recipient "will be of the highest caliber and exhibit leadership, innovation and industrious spirit that exemplified Mick Merelli."
Contact:
Kathleen Morton, Communications Coordinator / 303-273-3088 / KMorton@mines.edu
Karen Gilbert, Director of Public Relations / 303-273-3541 / KGilbert@mines.edu