Posted: August 8, 2018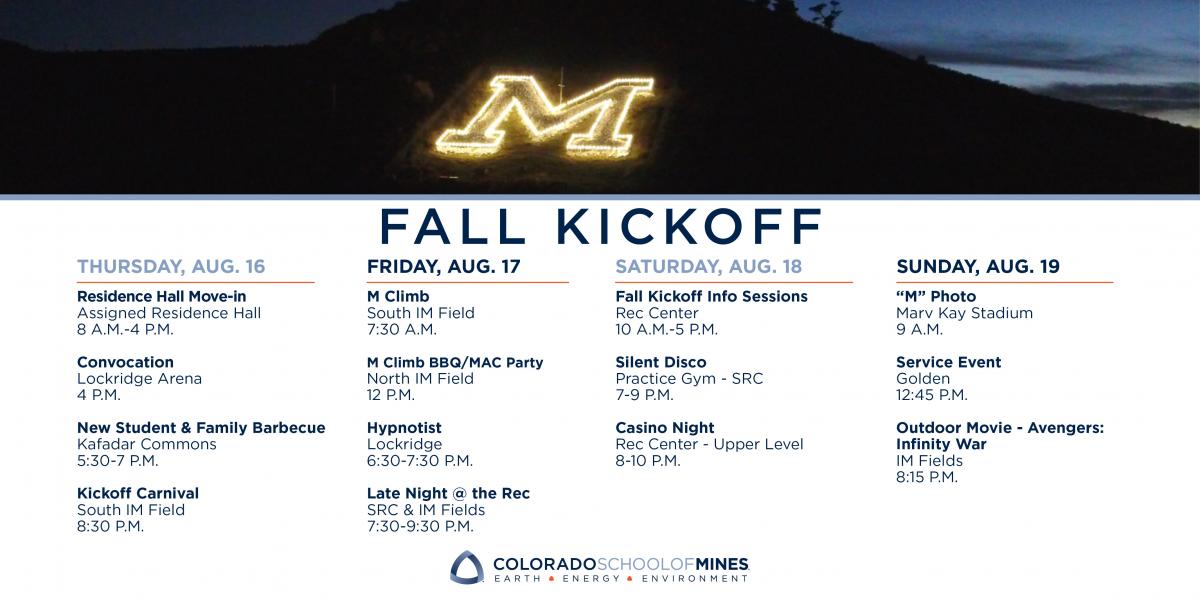 Summer is coming to a close. Jobs, internships and summer camps are ending, and campus is preparing for the start of the fall semester.
In addition to starting their tenure at Colorado School of Mines, new students have a lot to look forward to their first week on campus. Fall Kickoff takes place August 16-19.
"Fall Kickoff is our way of introducing our incoming students to campus, traditions and each other," said Jessica Keefer, director of New Student and Transition Services.
During Fall Kickoff, students get their first taste of Mines. Convocation marks the start of a student's career at Mines and the M Climb is a memorable initiation into the Oredigger family where many students quickly memorize The Mining Engineer fight song on the long hike up Mount Zion. They also get to contribute to the Golden community during the Fall Kickoff service event.
Additionally, new students will be grouped with upperclassmen peer mentors and will attend informational sessions to learn about life at Mines. Sessions will cover everything from residence life to Greek life and humanitarian programs to Title IX topics.
"Through information sessions, time spent with upper class peer mentors and fun events, we hope to help our first year and transfer students to feel comfortable, confident and excited going into their first day of class and beyond," Keefer said.
Parents and returning students can also participate in some of the Fall Kickoff program. Everyone is welcome to attend Convocation in Lockridge Arena on August 16 before the Family Barbecue that evening. Returning students can also attend the Mines Activities Council's outdoor movie and can look forward to additional welcome week events.
CONTACT
Joe DelNero, Digital Media and Communications Manager, Communications and Marketing | 303-273-3326 | jdelnero@mines.edu
Mark Ramirez, Managing Editor, Communications and Marketing | 303-273-3088 | ramirez@mines.edu