Posted: July 19, 2016
Professor Carolyn A. Koh, a leading expert in the study of natural gas hydrates, has been named the William K. Coors Distinguished Chair of Chemical and Biological Engineering, effective at the beginning of the fall semester.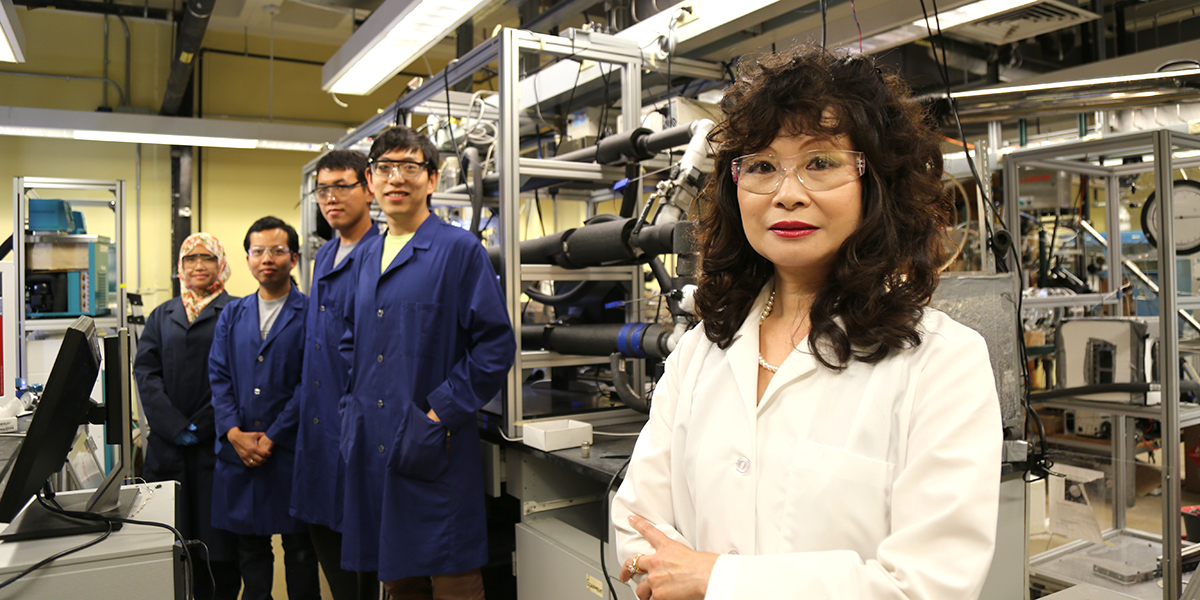 Koh joined the Chemical and Biological Engineering Department at Mines in 2004 as an associate professor, after beginning her career at King's College London University, and was promoted to professor in 2012. She was co-director of the Center for Hydrate Research from 2005 until 2014, when she became its director. She was recently appointed interim co-director of the Renewable Energy Materials Research Science and Engineering Center.
Koh's research is focused on natural gas hydrates—compounds in which a large amount of methane can be trapped within a crystal structure of water, forming ice-like solids. These gas hydrate solids present a potential hazard to the oil and gas industries when they form in underwater flowlines, and also have potential applications in energy recovery, transport, and storage.
This research has attracted $4.6 million in government and industry funding. Koh has published over 150 papers in refereed journals, including two papers in Science, and she has an h-index of 47. H-index is a metric that seeks to measure the productivity and impact of a researcher's publications, and Koh's, according to CBE Department Head David Marr, "is remarkable for someone at this stage in their career."
Koh said the chair is held in high regard both internally and by the broader chemical engineering community, and "the association with Coors is a truly unique opportunity that will facilitate enhancing awareness of work being performed in CBE as well as the Hydrate Center."
The position will also facilitate world-class training for graduate and postdoctoral students at Mines, allow Koh to expand her research portfolio, and raise awareness of the historically productive association between Coors and Mines through scientific innovation, Koh said.
Koh's teaching of core undergraduate and graduate courses and advising of graduate students and postdocs has been consistently excellent. "Carolyn has a gift for connecting with students," Marr said. Koh has primarily taught thermodynamics, typically the most difficult to grasp for students at all levels; despite this, her teaching evaluations for overall effectiveness are well above departmental and university averages, Marr said. In recognition of her accomplishments, she received the Dean's Excellence Award at the annual Faculty Forum this past May.
"Carolyn is an exemplary faculty member in her department and at Mines," said Michael Kaufman, dean of the College of Applied Science and Engineering. "Her dedication to her undergraduate students in the classroom, to her graduate students in the lab, and to the scientific community at large makes her the perfect candidate for this important recognition."
"Carolyn has built an impressive record demonstrating her commitment to students, dedication to teaching, and impactful innovation," Mines President Paul C. Johnson said. "In addition, she is a great contributor to, and representative of, our Mines community, so she is an ideal choice for this prestigious chair. I'm looking forward to seeing how the recognition and resources accompanying the chair catalyze Carolyn's pursuit of her teaching and research passions, and impact our students and reputation."
Carolyn earned a bachelor of science in chemistry and a PhD in surface chemistry and catalysis from the University of West London in the UK, and conducted postdoctoral research and training at Cornell University. Among her external recognitions, Koh is a Fellow of the Royal Society of Chemistry.
The William K. Coors Distinguished Chair was established in 1997 by the Adolph Coors Foundation in honor of William K. ("Bill") Coors. Bill, the grandson of Adolph Coors, founder of Coors Brewing Company in Golden, is widely recognized for his game-changing technical innovations and leadership and will celebrate his 100th birthday this summer.
[Photo: Carolyn Koh, right, is joined by members of her research group. From left are Mimi Ismail, Ahmad Majid, Hao Qin, and Sijia Hu. Ismail, Qin and Hu are graduate students; Majid is a postdoctoral researcher.]
Contact:
Mark Ramirez, Communications Manager, College of Applied Science & Engineering | 303-384-2622 | ramirez@mines.edu
Agata Bogucka, Communications Manager, College of Earth Resource Sciences & Engineering | 303-384-2657 | abogucka@mines.edu