Posted: December 4, 2014
John Spear is a Civil and Environmental Engineering Professor at Colorado School of Mines. Step inside his office in Coolbaugh Hall and you might find some strange items, dating back to 1898. Here are seven of Spear's favorite things in his collection.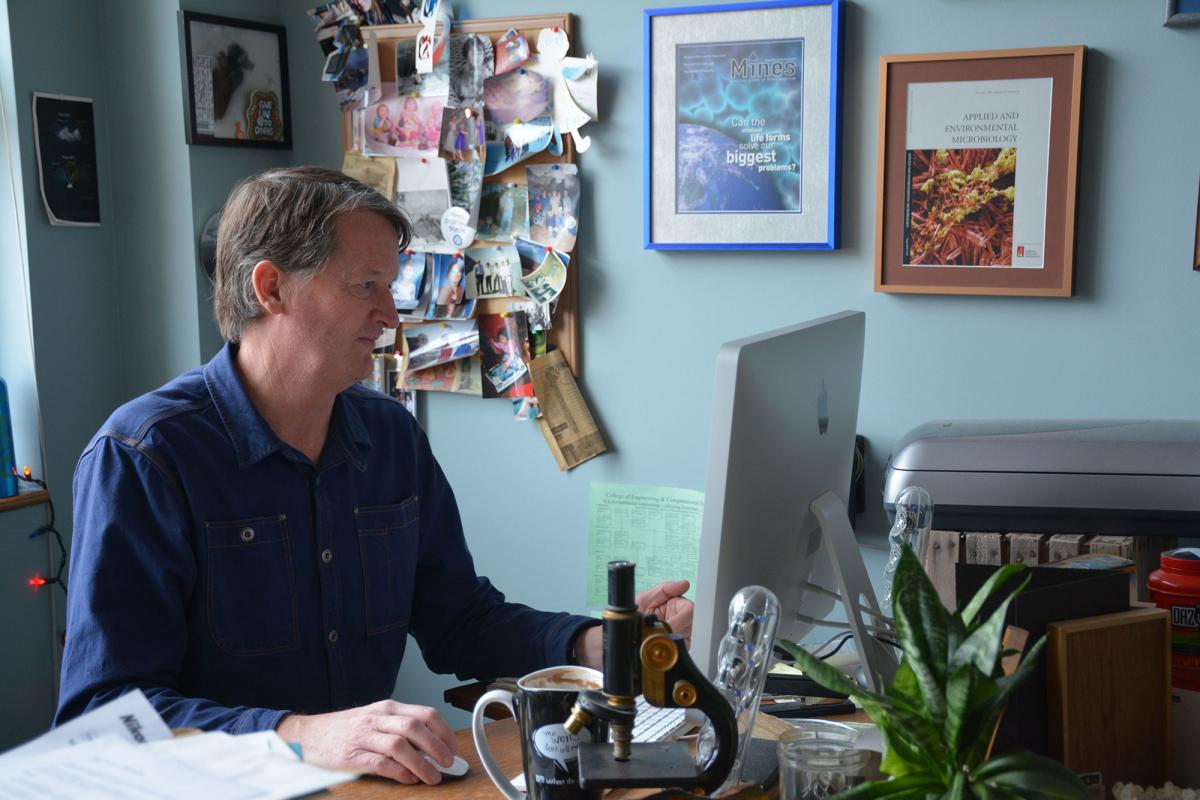 John Spear in his office in Coolbaugh Hall.
1. Canadian Flag
Spear received the flag from a research trip this summer to Nunavut in northern Canada. Nunavut's flag features the North Star and inuksuk, the universal symbol of greeting for the north and the symbol for the Vancouver Olympics.
Native people of the north would build stone monuments of that shape to say another human had been there and to guide people through the north.
"When you come across a natural one in the wild, it looks like a human standing with their arms out."
2. Stromatolite Rocks
Since Spear loves microbes, he loves stromatolite rocks. These rocks are laminated and "thought to record fossilized microbial mass."
This one is 50 million years old. He also owns one that is 3.2 billion years old from Bolivia.
"I have a lot of rocks in my office even though I'm not a geologist."
3. Gumball Machine
His daughter gave him this gumball machine when she was 7 years old when she was tired of playing with it. It ran out of gumballs a while ago.
4. 1948 Skis & Baby Beads
Skis: These 1948 wooden skis belonged to Spear's dad. As one of the first metal-edged skis, they are made with bear trap bindings that "used to break people's legs."
Beads: Strung across the skis are two sets of beads. One was his daughter's baby beads and one is his own pair of baby beads.
5. Styrofoam Cup
The once full-sized coffee cup is now one-inch tall after two of his students took it down to the bottom of the ocean in a basket on a submarine last year. They decorated it with an octopus and the words, "Microbes are everywhere," before submerging it.
As pressures build during descent, the air slowly compresses and the cup shrunk.
6. Typewriter
Spear's grandmother was a librarian for the U.S. Navy who loved to type notes. "She was a catalogue of information." She lived to be 104, and would often read 5-10 newspapers a day.
In her lifetime, his grandmother watched major events, from the invention of the light bulb to the space shuttle launch. Her typewriter recorded it all. She even left notes behind for her family to find on items she owned.
"She documented her whole life by that typewriter."
7. 1898 Coffee Grinder
This 1898 cast-iron coffee grinder weighs more than 200 pounds. Back in the day, it helped wake up the town of Pasadena, California—where Spear grew up. The man who owned the town store gave it to Spear's father.
Wood handles turn the cranks that can grind about 4-5 pounds of coffee at a time. After dumping beans into the top, you turn the hand crank and then pull powered coffee out at the bottom. The machine can make different grinds from course to fine.
"People were fine and course grinding coffee for 150 years."
Contact:
Kathleen Morton, Communications Coordinator, Colorado School of Mines / 303-273-3088 / kmorton@mines.edu
Karen Gilbert, Director of Public Relations, Colorado School of Mines / 303-273-3541 / kgilbert@mines.edu