Posted: October 11, 2016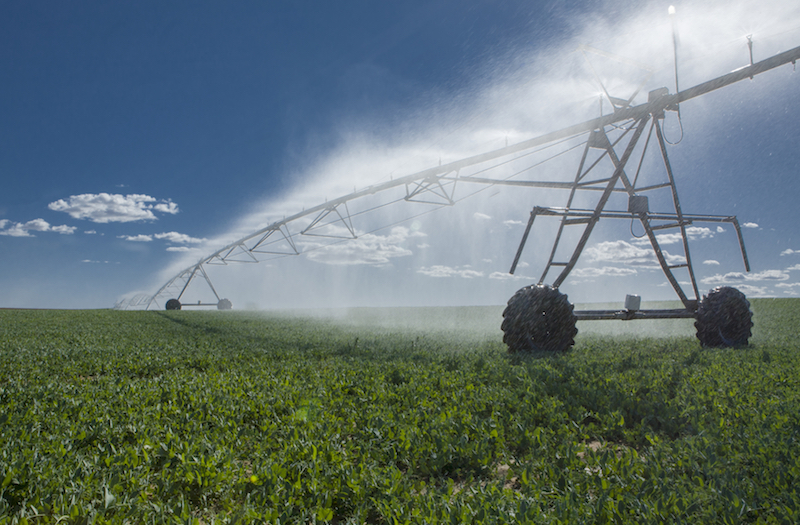 The Payne Institute for Earth Resources at Colorado School of Mines has teamed up with the American Geosciences Institute to host a series of events on the Mines campus that focus on the High Plains Aquifer. A free film screening of "Written on Water" takes place Oct. 26, followed by the AGI Critical Issues Forum, Oct. 27-28.
Mines to host film screening and forum on High Plains Aquifer
Groundwater is often a "transboundary" resource, shared by many groups of people across town, county, state and international boundaries. Changes in groundwater resources can create unique challenges requiring high levels of cooperation and innovation amongst stakeholder groups, from individuals to representatives at the state and federal government levels.
The Payne Institute for Earth Resources at Colorado School of Mines will host two events centered around the High Plains Aquifer Oct. 26-28.
According to the U.S. Geological Survey, "The High Plains Aquifer, which spans eight states from South Dakota to Texas, is overlain by about 20 percent of the nation's irrigated agricultural land, and provides about 30 percent of the groundwater used for irrigation in the country."
Free film screening of "Written on Water"
The series kicks off with a free film screening of "Written on Water" at 6:30 p.m. on Wednesday, Oct. 26 at Mines' Ben H. Parker Student Center, Ballrooms B+C. The screening will include an introduction by the film's director and producer, Merri Lisa Trigilio, followed by a question and answer session after the movie. Refreshments will be served. 
"Written On Water" focuses on the Ogallala Aquifer and examines the conflicts, politics, economics and groundwater depletion in the High Plains region. Farmers and communities survive on the precious waters of the Aquifer, yet it is being depleted at alarming rates. Learn more and reserve your seat by Oct. 18 by visiting WrittenOnWater.eventbrite.com.
American Geosciences Institute Critical Issues Forum
Work by the Kansas Geological Survey indicates that some parts of the High Plains Aquifer are already effectively exhausted for agricultural purposes; some parts are estimated to have a lifespan of less than 25 years; and other areas remain generally unaffected (Buchanan et al., 2015).
The AGI Critical Issues Forum, "Addressing Changes in Regional Groundwater Resources: Lessons from the High Plains Aquifer," Oct. 27-28, is a one-and-a-half-day meeting that will cover multiple aspects of groundwater depletion in the High Plains and will include abundant time for participant discussion. Break-out sessions will identify lessons learned and best practices from the High Plains Aquifer experience that might apply to other regions facing changes in the Earth system. Keynote speakers include:
Sharon B. Megdal, University of Arizona Water Resources Research Center
Jason Gurdak, San Francisco State University
Merri Lisa Trigilio, Director/Producer, "Written on Water"
Forum registration is $250; $35 for students; and $10 for Mines faculty and students with promo code: CSMWATER. Learn more, or register for the Critical Issues Forum.
About the Payne Institute at Colorado School of Mines
The mission of the Payne Institute for Earth Resources at Colorado School of Mines is to inform and shape sound public policy related to earth resources, energy and the environment. Its goal is to educate current and future leaders on the market, policy and technological challenges presented by energy, environmental and resource management issues, and provide a forum for national and global policy debate. For more information, visit EarthPolicy.Mines.edu.
About the American Geosciences Institute
AGI was founded in 1948, under a directive of the National Academy of Sciences, as a network of associations representing geoscientists with a diverse array of skills and knowledge of our planet. AGI provides information services to geoscientists, serves as a voice of shared interests in our profession, plays a major role in strengthening geoscience education and strives to increase public awareness of the vital role the geosciences play in society's use of resources, resilience to natural hazards and the health of the environment. Learn more at AmericanGeoSciences.org.
CONTACT:
Kelly Beard, Communication Specialist, Division of Economics and Business, Colorado School of Mines | 303-273-3452 | kbeard@mines.edu
Agata Bogucka, Communications Manager, College of Earth Resource Sciences and Engineering | 303-384-2657 | abogucka@mines.edu